Who we are and why we exist
QTIG was founded by QuikTrip to strategically deploy long-term capital into high-quality businesses that align with our core values to: Be the Best, Never Be Satisfied, Focus Long-Term, Do What's Right for QuikTrip, and Do the Right Thing.
We target businesses that are great employers and provide strategic long-term alternatives for founders, families, and other business owners who are looking for a partner that takes a employee-centric view.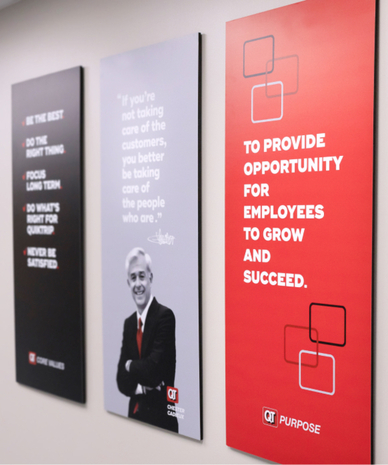 QTIG will:
Invest in targets that can leverage QuikTrip Corporation's core competencies and prioritize cultural alignment with a long-term perspective
Offer management teams the opportunity to focus on the long-term growth and overall success of their businesses
Deploy additional capital post-acquisition to pursue growth
QTIG will NOT:
Employ excessive leverage that burdens the balance sheet nor focus exclusively on financial returns
Force unnatural corporate actions by reducing headcount, for example in order to generate free cash flow
Sacrifice customer service or product quality
strategic, long-term capital for high quality brands and services
Our Core Values
Culturally-Aligned Management Teams Will...
Be The Best
Relentlessly pursue being the best in the eyes of the customers, competition, and employee
Insist on high operating and management standards and hiring the best talent
Never Be Satisfied
Remodel, close, or relocate store locations to meet the evolving needs of customers
Benchmark against the best, commit to continual improvement, and never rest on laurels
Focus Long-Term
Operate with a horizon of 20+ years and sacrifice short-term profits to build the future
Invest in training and developing people to foster innovation and drive organic growth
Do What's Right for QuikTrip
Make decisions for the good of the company that prioritize customers and employees
Conserve resources, protect the balance sheet, and manage employees fairly, firmly, and consistently
Do The Right Thing
Support our communities and always consider how actions affect customers and employees
Operate in a way that would make their families and employees proud
We Exist To Provide Opportunities for Employees to Grow and Succeed
"If you're not taking care of customers, you'd better be taking care of the people who are."